News & Upcoming Events!
The longest journey is from our heads to our hearts
Korean Cultural Center, November 3–27
Exhibition has been extended, officially through the 22nd 👊💥! But you can also catch it Friday, November 24th, and Monday, November 27th. KCC gallery hours are 10am–5pm. Thank you all who came out for the ✨🕳 Black Hole Workshop 🕳✨! Come visit the last days of the show and see what transpired during the workshop and the conclusions we came up with.
As part of receiving the 2016 KAFA Award, I'll be sharing some new/ongoing research at the Korean Cultural Center for the exhibition, The longest journey is from our heads to our hearts. The show will expand over the course of two weeks as I/we continually investigate and apply the various methods of identity-collapsing proposed in the show. The exhibition is very text-heavy so come prepared to read! OR you can download this PDF Portfolio and read at your leisure (please open PDF Portfolio in Acrobat 9 or Adobe Reader 9 or later) 📊🔬🚀❣️
BLACK HOLE WORKSHOP
Thursday, November 16, 6–9pm
This is a workshop where we apply the procedures proposed in The longest journey is from our heads to our hearts to stimulate gravitational collapse within intra-actions to form black holes and the impossibility of observation. The data analysis from this workshop will help formulate the conclusion to this experiment. Let's adventure within black holes together! 🖤💞🖤
**Parking and entrance off Dunsmuir Ave, behind the Korean Cultural Center Building
Gallery hours: Mon-Fri 10am-5pm / Sat 10am-1pm (closed November 25th)
Korean Cultural Center Art Gallery, 5505 Wilshire Blvd, Los Angeles, CA 90036

Update on ✨Mr. Snuggles FOREVER✨! Divya Anantharaman of Friends Forever Taxidermy just sent me this pic of Mr. Snuggles' skull and paw bones 😍! Mr. Snuggles will be arriving in LA as an enchanted fanny pack in December!!! ❤️🐶❤️
Propositions on Revolution (Slogans for a Future)
Krannert Art Museum, August 31—December 22, 2017
My video, Revolutionizing Revolution, is part of this exhibition organized by Kristin Romberg. If you're near Champaign, Illinois, check it out!
Propositions on Revolution (Slogans for a Future) takes the centennial of the Russian Revolution of 1917 as an occasion to think broadly about revolution. How do radical changes in power and perception come about? Who makes them, or how do they happen?
It adopts a working method employed by early twentieth-century political organizers, who co-authored slogans as a device for developing consciousness of their contemporary situation and consensus about how to move forward. Functioning less as propagandistic directives than as propositions to be picked up and debated, these slogans were intended to be part of an ongoing process of collective self-production.
The exhibition includes works by contemporary artists and collectives Chto Delat', Tacita Dean, Coco Fusco, Jennifer Moon, Tameka Norris, and The Propeller Group. Each work has been selected for its potential as a starting point for a discussion about a "proposition on revolution."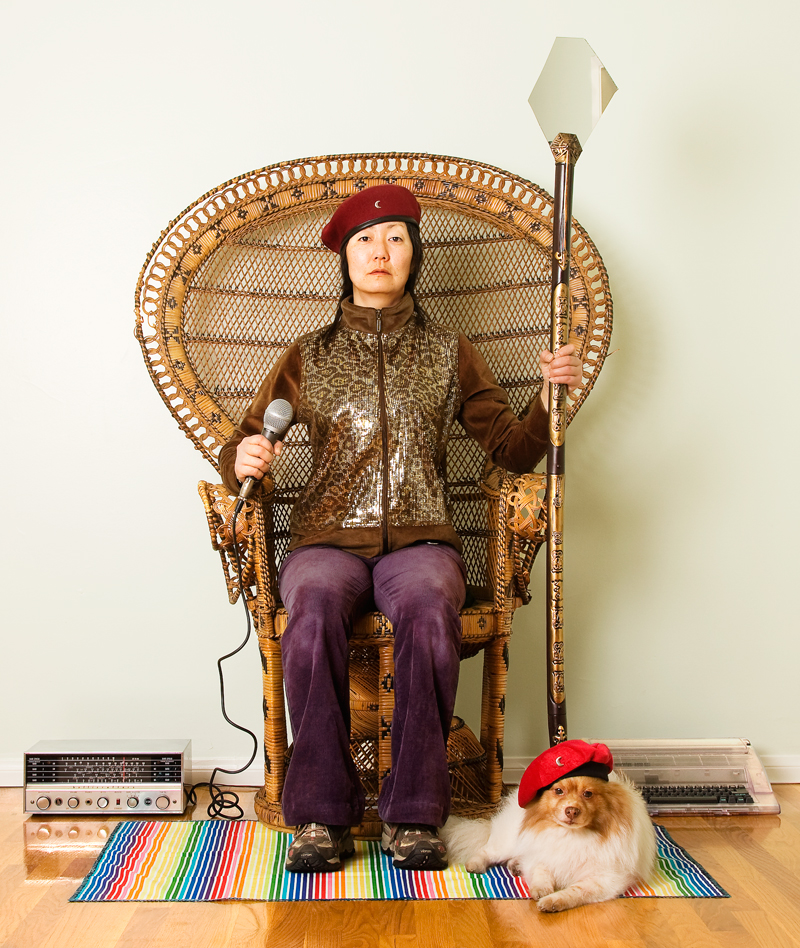 This Is Not a Selfie: Photographic Self-Portraits from the Audrey and Sydney Irmas Collection
San Jose Museum of Art, August 25, 2017—January 14, 2018
I am honored to be part of this incredible collection of self-portraits, organized by LACMA, making its debut at the San Jose Museum of Art.
This Is Not a Selfie: Photographic Self-Portraits from the Audrey and Sydney Irmas Collection is organized by the Los Angeles County Museum of Art (LACMA) and drawn from the most significant collection devoted to the subject, which was donated to LACMA by Audrey and Sydney Irmas beginning in 1992. The exhibition comprises 66 photographs ranging from early 19th century experiments through contemporary digital techniques and includes works by Diane Arbus, Robert Mapplethorpe, Catherine Opie, Cindy Sherman, Alfred Stieglitz, Lorna Simpson, and Andy Warhol, among others. SJMA is the first venue for This Is Not a Selfie, which will later travel to Art Center College of Design in Pasadena, CA, and the Museum of Fine Arts, St. Petersburg, FL.
An illustrated catalogue will accompany the exhibition. The catalogue includes an essay by photography historian Deborah Irmas as guest curator and 50 extended written entries by Eve Schillo, assistant curator, LACMA, and the curatorial team at the Wallis Annenberg Photography Department at LACMA, along with a foreword by Susan Sayre Batton, Oshman Executive Director at SJMA.
This Is Not a Selfie also includes works by Berenice Abbott, Mehemed Fehmy Agha, Lisa Anne Auerbach, Herbert Bayer, Hans Bellmer, Wallace Berman, Joseph Beuys, Ilse Bing, Christian Boltanski, Jonathan Borofsky, Claude Cahun, Henri Cartier-Bresson, Anne Collier, Eileen Cowin, Judy Dater, Robert Frank, Lee Friedlander, Simryn Gill, Nan Goldin, Douglas Gordon, Pedro Guerrero, Lyle Ashton Harris and Renee Cox, Florence Henri, Bettina Hoffmann, Peter Keetman, Martin Kersels, Yves Klein, O. Winston Link, El Lissitzky, T. Lux (Theodore Lukas), George Platt Lynes, Danny Lyon, Ralph Eugene Meatyard, Pierre Molinier, Jennifer Moon, Yasumasa Morimura, Vik Muniz. Nadar (Gaspard-Félix Tournachon), Paulo Nazareth, Bruce Nauman, Warren Neidich, Helmut Newton, Leonard Nimoy, Luigi Ontani, ORLAN, Chino Otsuka, Hirsch Perlman, Amalia Pica, Alphonse-Louis Poitevin, Sigmar Polke, Ilene Segalove, Malick Sidibé, Anton Stankowski, Ralph Steiner, Seneca Ray Stoddard, Wolfgang Tillmans, and William Wegman.
Sign up for the mailing list to keep in the loop with all the things to come!